Metal fireproof junction boxes SMB120 and SMB165
Ecoplast plant offers a NOVELTY - metal fire-resistant junction boxes.
The new series of surface - mounted fireproof boxes is available in two sizes: SMB120 and SMB165 .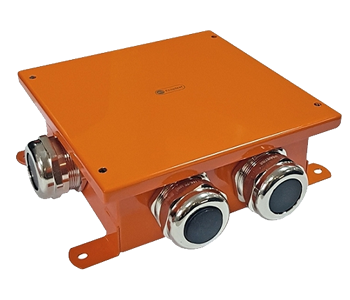 Specifications.
Material: steel.

Degree of protection when equipped: IP66.

Number of poles: 3; 4; five; 6; eight; nine; 10-pole.

Terminal part, wire cross-section: 1.5; 2.5; 4; 6; 10; sixteen; 25 mm

2

.

Rated current: 20 to 101A.

Allowable operating voltage: up to 1000V.

Color: orange RAL2003.
Areas of use.
Boxes of the SMB series are intended for use as part of fire-resistant cable lines, or as a separate element as a system for increasing the efficiency of the cable line structure in combination with a fire-resistant cable (core cross-section from 0.15 to 25 mm 2 ).
Features and advantages of SMB series fire-resistant boxes.
Fire-resistant boxes of the SMB series are recommended as a switching element for connection, branching of a fire-resistant cable with a conductor cross-section from 1.5 to 25 mm 2 .
All boxes in the series are equipped with fire-resistant ceramic terminal blocks, which guarantee a reliable connection and maintain the performance of the fire-resistant cable in a fire.
SMB series boxes are a reliable fire-resistant solution.

The boxes are delivered with the terminal block installed.

Complete assembly kit.

A grounding conductor is installed in the boxes.

Metal sealed cable glands for cables with an outer diameter of 14-25 mm.

Convenient installation on various types of fire-resistant surfaces.

Individual equipment of the box with fire-resistant terminal blocks with different numbers of poles and cross-sections.
Fireproof boxes are in stock and already available for order!
You can get full information on technical characteristics, design options and types of installation by phone +7 (495) 784-67-40.