About
Plant "Ekoplast" (Russia) ISO 9001: 2008 - Your reliable Russian manufacturer and supplier of high-quality materials for electrical wiring.
The company "Ekoplast" produces: corrugated pipes, smooth rigid pipes, cable channels, minichannels, boxes for electrical installation, trunk channels, minicolumns, electrical hatches, distribution boxes, accessories for pipes and fasteners, cable clamps and ties, sockets, switches for internal and outdoor electrical wiring, materials for finishing buildings and structures, cable trays.
Mission
The company's mission is to provide high-quality modern and affordable materials to a wide range of consumers for installing hidden and outdoor electrical wiring in Russia and the CIS countries.
Production
An innovative approach to the creation of materials: corrugated pipes, cable channels and ducts, rigid pipes, junction boxes, cable ties and clamps, the development of electrical installation equipment, high-tech equipment and automated processes, stringent requirements for quality characteristics, constantly expanding production capacities - all this is a distinctive feature of the EKOPLAST company.
Quality
Compliance with the quality standard and the consumer confidence factor are the main components required for all EKOPLAST products and are an integral part of our philosophy. EKOPLAST plant is certified in accordance with the production quality management system of the international standard ISO 9001: 2008 (GOST R ISO 9001-2008). The certificate is valid on the territory of Russia, as well as near and far abroad. The products are certified in accordance with certification systems adopted on the territory of the Russian Federation:
- certification system in the field of fire safety of the State Fire Service of the Ministry of Internal Affairs of Russia
- GOST-R certification system of Gosstandart of Russia
- certification system of the State Sanitary and Epidemiological Service of the Russian Federation

We are proud of our reputation as a manufacturer of quality goods.

We are simply one of the "Best in Russia".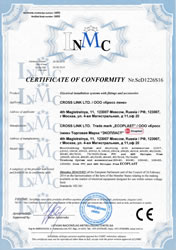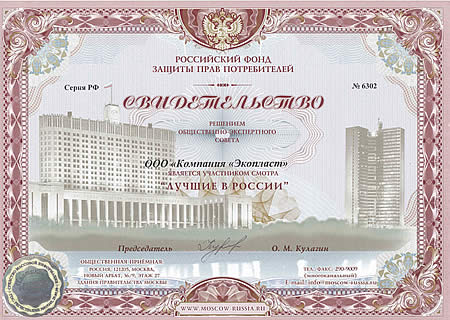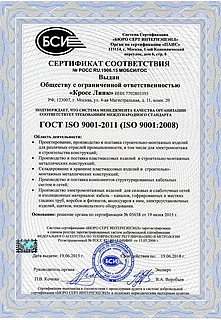 International recognition - CE certificates of the European Union
Ecoplast plant (Russia) has successfully passed the certification of flagship product groups manufactured under the Ecoplast ™ trademark and received international certificates of product quality recognition for the European Union of the CE standard. The quality of Ecoplast ™ products is officially confirmed in accredited EU laboratories and meets the requirements of the European Union standards directive 2014/35 / EU
Politics
A flexible price system of discounts, service and customer support with marketing materials, versatile support of partners at all levels of use and sale of EKOPLAST products are the main marketing concept of the company. We are interested in the growth of our partners and their well-being, the development and implementation of new technologies and ideas that meet European quality standards and are affordable for the Russian consumer.
Team
The qualified production team has more than 15 years of production experience in the field of plastics processing, has its own technological developments. A team of dynamic employees of the marketing department is always at your disposal, ready to provide the best price / quality solution, provide comprehensive technical support, find the best solution in accordance with your requirements and technical specifications.
Ecoplast products
- corrugated pipes (corrugated pipes) for electrical wiring
- smooth-walled pipes for electrical wiring
- accessories (fasteners / couplings / corners / bends)
- junction boxes
- ducts and cable ducts for cable laying
- minichannel systems with accessories
- system of main (feeder) channels
- clamps and cable ties
- electrical hatches
- service columns
- wiring accessories low-current switching equipment
Long-term expert reputation
With 15 years of experience in the production and sale of electrical products, we offer systemic high-quality products and solutions with an optimal price-quality ratio, not inferior to European counterparts. Our key task is to create a standard for a customer-oriented business using progressive technologies, innovative developments and the experience of highly professional employees.

We have experience in the production and supply of government orders:
Federal Treasury of the Russian Federation, facilities of the Ministry of Defense of the Russian Federation, Ministry of Internal Affairs of the Russian Federation, JSC Russian Railways, facilities of the Ministry of the Atomic Industry of the Russian Federation, Moscow Metro, MCC (Korolev), GK NPTs im. Khrunichev; to large industrial and transport facilities of the Russian Federation: Domodedovo airport, Sheremetyevo, Vnukovo, Koltsovo, etc., Large private companies: Severstal OJSC (Cherepovets), Gazprom OJSC, Transgaz OJSC, Sibur Holding OJSC, Siberian Aluminum OJSC (OKSA), OJSC Power Machines, etc., as well as in social infrastructure facilities and private projects in the territory of the Russian Federation and the Republic of Belarus: schools, educational institutions, clinics, hospitals, commercial enterprises, shopping centers, etc. The

full page with the main objects is posted HERE