Description of pipe series - HF
Halogen-free HDPE pipes, halogen-free, series - HF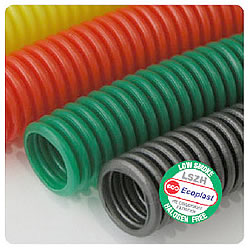 Halogen-free corrugated pipes of the HF (Halogen Free) series when in contact with fire do not emit toxic substances and corrosive combustion products. The halogen-free composition does not contain such toxic volatile elements as carbon monoxide and hydrogen chloride (HCl), which upon contact with water form weak solutions of hydrochloric acid, which is highly corrosive.
This series is characterized by a wide range of operating temperatures from -25 ° C to + 90 ° C, which allows electrical installation work both in hot and cold conditions without loss of mechanical and insulating properties.
HF plastic pipe systems are adapted and compatible with all standard accessories and switchgears of the series, used with standard corrugated pipes.
The products have all the certificates required in the territory of the Russian Federation.