Rigid smooth pipes for FRL
Rigid smooth pipes for FRL

EKOPLAST pipes used as part of OKL, made of polyolefin compositions with a high percentage of fire retardants, create additional reliable protection of cable conductors due to the process of increased coke formation that occurs when halogen-free pipes are burned in an open flame. Pipes with the HF "Halogen Free" index do not emit harmful carbon compounds during prolonged heating or exposure to flame due to the fact that they do not contain chemicals from the halogen group (chlorine, bromine, fluorine).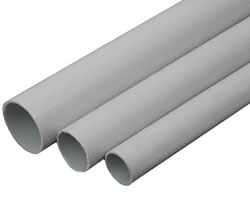 Halogen-free (HF) pipes EKOPLAST are made from polyolefin compositions in various designs:
HFR series - the material composition does not contain halogen elements (halogen free) and is flame retardant. Complies with fire safety standards (technical regulations on fire safety requirements FZ 123).
The OKL includes all the necessary accessories in a halogen-free HF version designed for fastening and connecting pipes into the system (fasteners, bends, tees, couplings).
HDPE pipe rigid, smooth, made of polyolefin composition (halogen-free), flame retardant
The pipe is heavy
| | | | | |
| --- | --- | --- | --- | --- |
| vendor code | Fire resistance | External , mm | Length, m | Package quantity , m |
| 23016HFR | E90 | 16 | 3 | 102 |
| 23020HFR | E90 | twenty | 3 | 102 |
| 23025HFR | E90 | 25 | 3 | 60 |
| 23032HFR | E90 | 32 | 3 | thirty |
| 23040HFR | E90 | 40 | 3 | thirty |
| 23050HFR | E90 | 50 | 3 | 15 |
| 23063HFR | E90 | 63 | 3 | 15 |
Rigid smooth pipe, made of self-extinguishing PVC composition, for OKL
Light pipe
| | | | | |
| --- | --- | --- | --- | --- |
| vendor code | Fire resistance | External , mm | Length, m | Package quantity , m |
| 30016-E90 | E90 | 16 | 3 | 102 |
| 30020-E90 | E90 | twenty | 3 | 102 |
| 30025-E90 | E90 | 25 | 3 | 60 |
| 30032-E90 | E90 | 32 | 3 | thirty |
| 30040-E90 | E90 | 40 | 3 | thirty |
| 30050-E90 | E90 | 50 | 3 | 15 |
| 30063-E90 | E90 | 63 | 3 | 15 |
Rigid smooth pipe, made of self-extinguishing PVC composition, for OKL
The pipe is heavy
| | | | | |
| --- | --- | --- | --- | --- |
| vendor code | Fire resistance | External , mm | Length, m | Package quantity , m |
| 31016-E90 | E90 | 16 | 3 | 102 |
| 31020-E90 | E90 | twenty | 3 | 102 |
| 31025-E90 | E90 | 25 | 3 | 60 |
| 31032-E90 | E90 | 32 | 3 | thirty |
| 31040-E90 | E90 | 40 | 3 | thirty |
| 31050-E90 | E90 | 50 | 3 | 15 |
| 31063-E90 | E90 | 63 | 3 | 15 |